SDMC mayor Narendra Chawla on Tuesday took a round of Sangam Vihar, the largest unauthorised colony in Delhi, to personally assess the status of cleanliness, sanitation and living conditions of the citizens in the colony. Accompanied by commissioner Dr Puneet Kumar Goel, former MLA Vijay Jolly, councillors, and other departmental heads, Chawla visited a number of blocks and also interacted with the local persons to abreast him of the difficulties faced by them. The Mayor focused on a road from Mangal Bazar to Ratia Marg during his round.
The densely populated Sangam Vihar area is currently at the threshold of facing a medical emergency as the lanes are badly flooded because of faulty storm drains on both the sides of road built on higher level resulting in the pouring of filthy water on roads and lanes out of unplanned, haphazard and badly planned drains, a source said. The drains in the colony are being constructed and are maintained by the Delhi State Industrial and Infrastructure Development Corporation (DSIIDC) under Delhi government.
Chawla expressed surprise over the unmanaged construction work by DSIIDC putting the residents in deep trouble. He said that the AAP government which claims to be a saviour of people has not cared to depute any of its senior leader/ officers to find out the real cause of the problem. The mayor added that the condition is pitiable and worst and residents of the area are facing a hard time. This may lead to breaking out of vector-borne diseases in the locality inhabited by the lower middle-class families.
Chawla also said that the faulty designing and construction of storm drains is creating obstacles for the sanitation employees in keeping the area garbage free and clean. The DSIIDC by their unplanned and casual construction of storm drains has not only created problems for the sanitation employees but also put the residents in the artificially created danger zone.
The mayor stressed the need of an urgent and most feasible remedial action by DSIIDC to improve the life of the residents in the area failing which the situation may go out of control.
Date updated:
Wednesday, 5 September 2018 – 6:40am
Article Images: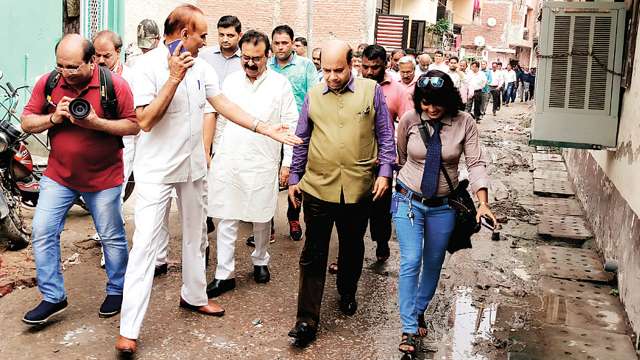 from Daily News & Analysis http://bit.ly/2PBD08y