A 38-year-old woman died while her 13-year-old daughter is battling for life after the car they were travelling in collided head-on with an SUV on Punjabi Bagh flyover after midnight on Friday. The SUV that was coming from the opposite direction and jumped the divider on the flyover. The SUV driver, Shivani, who was allegedly in an inebriated state, when she was going for a party with three friends.
She allegedly lost control of the wheel and jumped the divider and her SUV hit the car in which eight members of a family were travelling.
According to the police, the deceased has been identified as Poonam Sardana, who along with her family members, was coming back from a temple around 11:30pm.
The incident took place when Shivani Malik, daughter of a deceased Delhi police officer, who was speeding, lost control of her vehicle and bumped into the divider and toppled over to the other side.
Poonam's daughter Chentanya, also sustained injuries and is under medical observation. "The car was coming from opposite direction while going home near Punjabi Bagh Flyover. First, it hit a two-wheeler and then the driver. Later, it jumped across the divider and came to our side as it hit my car from the right side," said Vimal, the deceased's husband. He further said that Poonam was sitting in the middle row, on the extreme right, and his daughter on the extreme right in the back. "It turned turtle after hitting the car. There were four people, including a guy who fled. We managed to catch the three girls," said Vimal. A police control room call was made and a team rushed to the spot.
" Poonam was profusely bleeding while Chentanya had shards of the window glass all over her body. Both of them were rushed to a nearby hospital with the help of a passer-by. While Poonam was declared brought dead on arrival, her daughter is undergoing treatment," said a senior police officer.
The family of the deceased has alleged that the cops were trying to hush the matter. Police officials have revealed that accused Shivani works at a salon in Noida.
Date updated:
Sunday, 11 November 2018 – 6:10am
Article Images: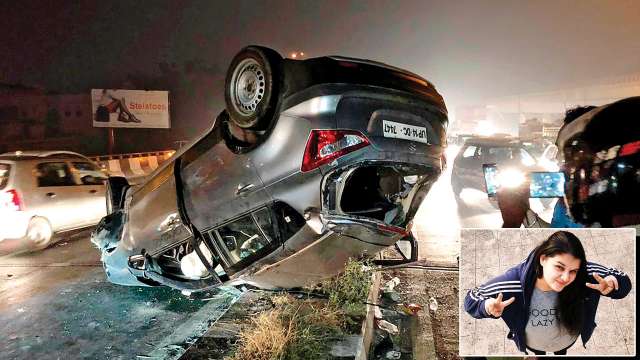 from Daily News & Analysis https://ift.tt/2PqQKI0